GAYS MILLS - Voters will choose between five candidates for three open positions on the Gays Mills Village Board in the Tuesday, April 4 election. Those candidates are Kevin Murray, Larry McCarn, Josh Kasinkas, Emily Swiggum and Aaron Fortney.
Kevin Murray is an incumbent Gays Mills Village Board Trustee, who has served about seven years on the board in the past. Murray served from 2010 to 2013, when he left to work in the oilfields of North Dakota, and later returned home to work in over-the-road trucking.
Murray, 57, lives with his wife Risha at 103 School Street in Gays Mils. The Murrays have four adult children, which include Connor, Seamus, Finn and Morgan. There are also four grandchildren–Clara, Ian, Connor Jr. and James.
Kevin Murray is currently employed as a carpenter and general contractor.
Murray graduated from high school in Bourne, Mass., And went on to attend the Courtland School of Art in Portland, Maine.
The incumbent village trustee is also an active member of St. Mary's Catholic Church in Gays Mills. He is a former member of the Carpenters Union.
Some of Murray's  favorite pastimes include fishing, hunting and gardening.
Gays Mills Village Trustee Kevin Murray is running to serve his local community. He hopes to use is previous experience to better understand the situation of the village.
Originally, Murray served on the board the first time from 2010 to 2013 prior to leaving for North Dakota.  He was elected in the 2019 election, and was re-elected to the board again in 2021.
Like many on the board, Murray believes one of the most important projects now is constructing a new sewer plant for the  village.
The other trustees and Murray have been involved in working on the specifications.
"I want to see if I can use some of my construction experience to understand and analyze what they (the engineers) are offering."
Another priority for the trustee is improving public lands owned by the village, particularly along the river.
Some of that work could include filling low spots in the park to remove mosquito breeding grounds.
Murray also supports forestry initiatives on village-owned land, as well as supporting improving the building at the dam.
"It all ties into the park," Murray explained.
Another important issue to the village trustee is watching out for property rights from the perspective of the village. To that end, Murray fought allowing members of the village tree board from being able to enter people's property without permission. Eventually, the board agreed with Murray that the tree board must receive the permission of the property owner or the tenant before entering to the property to check on trees.
In a similar move, Murray got the village board to not approve a section of the county emergency management rules that would allow the county board to appoint an administrator, who could enforce mandatory evacuation from areas that were declared emergencies.
Murray is big supporter of the village, and wants to assure that it remains a great community for families to raise children. He moved here in 1994 and obviously enjoys living here with his family.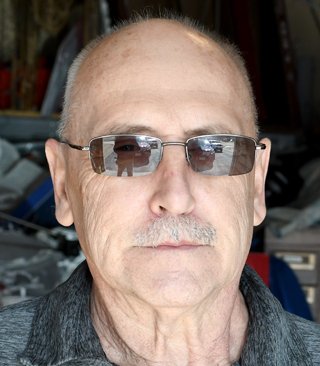 Larry McCarn
The most veteran of all of the incumbent board members running this time is village trustee Larry McCarn. He started as a trustee in the early 1990s and became village president in April 1993. McCarn continued to serve as village president until April 2011, when he was defeated for the post by Craig Anderson.
After a few years off, McCarn returned to run as a trustee in 2019 and was re-elected in 2021. And, he's running again.
McCarn lives with his wife at 140 Bluebird Lane in Gays Mils. The family has four adult children, Adam, Brent, Miranda and Banita. They also have eight grandchildren, and five great grandchildren.
McCarn retired, not too long ago, as a maintenance and cleaning worker in the Seneca School District. He had worked in that position for 44 years.
McCarn attended Boscobel High School growing up.
The active village trustee is a member of the Friends of Gays Mills, the Village Festival Committee, Connect Communities, the Village Board Development Committee and Ocooch Mountain Rescue. He is also a retired Gays Mills Volunteer Firefighter and a past member of Friends of the Crawford County Fair.
McCarn just chuckled when he was asked why he was running for another term as trustee.
"Well, I must care, because I wouldn't be involved in all of this stuff if I didn't care about the village," the former village president declared. "I don't want to sit back and just watch it all happen,"
McCarn's favorite pastimes are woodworking and gardening. He also likes being with his grandkids.
As for the village, McCarn wants to see that it continues to grow.
And yes, like Murray and the rest of candidates running for village trustee, he is vitally concerned about getting the village's new sewer plant built.
"We can't really do it, if we can't get it cheap enough," the veteran village insider said in a frank assessment of the situation.
McCarn sent a letter himself to legislators urging them to support funding for the village's sewer project.
The trustee also sees other priorities for the village, with growth and development at the top. 
"It's #1 for us," McCarn said. "We need to keep growing a bit, so people will keep moving here."
That means bringing some more businesses to town,  and the trustee said that things are in progress on that front.
The trustee assured everyone that things are in progress and not just 'village-wise.' 
"Stuff is happening but I can't say what it is yet," he said.
Village trustee Larry McCarn  is asking for voters support him based on his record.

Josh Kasinkas
The newest of the three incumbents on the ballot is village trustee Josh Kasinkas. He was elected to his first term on the board in the 2021 election, as a write-in candidate.
Kasinkas, 33, lives at 16833 West Point Road in Gays Mills with wife Jessica and three children Eden, 8, Henry, 6, and Gideon, 4.
Josh Kasinkas graduated from Sheboygan Area Lutheran High School, and went on to graduate with a Bachelor of Science from UW-Green Bay–majoring in Business Management and minoring in Accounting.
Kasinkas in member of Adoration Church in LaCrosse, where he serves as an elder. He is also a member of the non-profit Holy Ground Ministries, which is oriented toward Christians giving back to the community and serving those people in spreading the gospel.
Kasinkas hopes to be a part of an effort to build a retreat in the next couple of years.
Additionally, the village trustee is a member of the Friends of Gays Mills.
Kasinkas works as a vice president for growth and strategy for a company known as GSC. Located in Germantown, Wisconsin, the firm provides technology and service for engineering and manufacturing companies.
Kasinkas  was quick to point to bowhunting as a favorite pastime.
Why is he running for another term as village trustee?
"I just want to continue to have an impact in the community by providing a different perspective by not being from here," Kasinkas said.
The village trustee wants to create a strong development committee on the board that help grow and bring business here.
"We're self-sufficient. We have everything to have growth and development and to see a thriving vibrant community," he noted. "We can support families of all different groups."
The issues Kasinkas sees for the village include that its financial status can be improved. He also sees a need for increased housing and business.
"We need greater financial health, not just for Gays Mills, but for all small communities," Kasinkas said. "We're kind of stuck in a mindset that this is the way it is and this is the way it will always be.
"People believe in this town. They believe it's a good place to live and to do business," Kasinkas said. "The challenge is the mindset. Some people look at it and say it's flood-stricken. I believe that is not the case.
"The challenge is not doing it the way we always have done it, but breaking out and trying something new."
Kasinkas thinks a priority for the village should be housing. He admits it's a big challenge, but points out people need places to live.
The other missing ingredient are restaurants and recreation activities.
"People need things to do," the trustee explains. "Apple Fest and Stump Dodger are a good  draw, but people need something to do for the long-term."
Kasinkas is also part of Community Connections and GMEDA (Gays Mills Economic Development Association).
"It's great to see different groups with passion and desire for community," he said. "We need to get the community more involved."

Emily Swiggum
The only woman among the four people running to become a Gays Mills Village Trustee is Emily Swiggum. She is the only candidate, who has never served at least one term on the board.
Swiggum 36, lives at 165 Evergreen Street with her significant other,  Paul Kinserdahl, and their 11-year-old daughter Kylie.
Swiggum is employed as a residential assistant at an adult family group home in Soldiers Grove. She has also worked in daycare.
The candidate for village trustee graduated from North Crawford High School in 2005. She went on to Southwest Tech, where she received her CNA certificate, and Western College, where she became a National Registered EMT-B.
Emily Swiggum is a member of the Kickapoo United Lutheran Church, and serves as an EMT with both Ocooch Mountain Rescue and North Crawford Rescue, where she is also the treasurer. Along the way, Swiggum finds time to serve as the North Crawford Summer Rec Softball Coordinator and coach, and a North Crawford Wrestling Volunteer Assistant Coach.
A favorite pastime for Swiggum is camping.
Why is Emily Swiggum running to become a Village Trustee on the Gays Mills Village Board?
"It's an opportunity to give back to the community," Swiggum explained. "I've lived in the area my whole life; most people know who  I am and share their opinions with me. Some who share their opinion are not comfortable taking their concerns where they need to be taken. I will be their voice!
"I also want to advocate for the kids and residents of our small community by improving and adding sidewalks in residential areas to provide safe access to things like the pool, the library, the small shops and stores that our beautiful close knit community has to offer."
Like the other candidates, Swiggum is quick to identify construction of the new sewer plant as a big issue facing the village. Swiggum sees both the cost of the overall project, as well as trying to keep the taxpayer costs low, as priorities.
Other priorities for Swiggum include community upkeep of things, and seeing that things are done differently, more efficiently and are delegated better.
Swiggum explained that she sees some of the concerns of younger people being overlooked.
Her message to the voters is fairly straightforward.
"I'm here for your families," Swiggum said. "I'm an avid advocate for you. I want to get things for our kids. I'm family-oriented."
Aaron Fortney
Former Gays Mills Village Trustee Aaron Fortney has decided to run for the board again.
Fortney, 53, owns a residence at 16703 State High way 131. The house was recently damaged by fire, but Fortney has decided to rebuild on the lot.
Aaron Fortney has two adult children Hunter and Kayla, who live in Gays Mills, and three grandchildren.
The former village trustee, and current candidate, is employed as a rural carrier for the U.S. Postal Service. Fortney previously worked for the Sunrise Orchard, and is currently a buyer of wild ginseng for Paul Hsu.
Fortney graduated from North Crawford High School and attended the University in Minnesota-Waseca.
Aaron Fortney is a member of Franklin Lutheran Church and founding member, along with Jay Greene, of the Gays Mils Learn-to-Hunt Classes. He is also a member of the World Wide Walleye Club, and active on the Pro Walleye Tour and the Walleye Anglers Trail.
Not surprisingly, one of Fortney's favorite pastimes is tournament walleye fishing with his son Hunter, and in another tournament series, with river guide Mike McCormick.
In addition to fishing, Fortney is an avid hunter. He is also an avid outdoorsman, who enjoys camping and music.
Fortney decided to run for the board again to clear up some issues that were not addressed during his previous terms on the board.
"I'd like to see the village moving ahead on road repair and maintenance," the former village trustee said. "We need to do a better job of that."
Like almost everyone running, Fortney was quick to point out the sewer plant construction is a huge thing on the village board's plate.
Fortney indicated that he's not running to be a 'yes man' on the board. He explained that in the past he would attend meetings only to find out the decision was already decided.
"Voters all remember that I'm not a 'yes' man," Fortney said. "I stand up for my  views. I have the best outlook for the village. That's what my vision has been."
Fortney emphasized that following his recent house fire, he had a choice of whether to rebuild in the village, and decided that he would absolutely rebuild in this place.
And, there you have it. It's a choice between five qualified candidates for the three open trustee positions on the village board. Every village should be that lucky to have those kind of choices.
Now, it's up to you the voters…make sure you vote.