DRIFTLESS - Following Governor Tony Evers declaring the week of February 7 as 'Flood Insurance Awareness Week,' Wisconsin Insurance Commissioner Nathan Houdek, representatives from the Department of Safety and Professional Services (DSPS), and Department of Financial Institutions (DFI) Secretary-designee Cheryll Olson-Collins, met with local leaders and consumers in Sparta to encourage flood risk mitigation.
"Today's snow is tomorrow's flood, so it is never too early to prepare for potential disasters," said Commissioner Houdek. "Just one inch of water can cause up to $25,000 in damages which is an expense that most Wisconsin families can't afford- that's where insurance coverage comes in. Reach out to your insurance agent or visit Floodsmart.gov to get enrolled in a National Flood Insurance Program (NFIP) policy today."
Houdek cautioned homeowners not to wait as it takes 30 days from the date of application for a policy to be approved. He said that NFIP representatives can work with homeowners to find the policy that is right for them.
The visit to Sparta was stimulated by events following the August 2018 flood, where seven flood control dams breached in one night, sending record-level floodwaters into the Kickapoo and Little LaCrosse rivers and Coon Creek. Following that event, and events in 2019 and 2020, Monroe County worked with local residents on buyouts of flood-damaged properties. Some of those properties were not located in the floodplain, but with increasingly large rain events in recent years, have suffered the impacts of flooding.
Property owners in designated high-risk flood areas are required to purchase flood insurance if they have a federally insured mortgage, but anyone can enroll in flood insurance coverage. In fact, between 2015-2019, more than 40 percent of all NFIP claims came from outside of those high-risk flood areas. NFIP policies provide coverage for flood damage caused by overflowing rivers, snowmelt, or significant rainfall. Homeowners or renters insurance policies do not typically cover flood-related damages.
Marty's story
Marty Severson was one of the property owners severely affected by the August 2018 flooding in the Little LaCrosse River watershed. Severson's home is located out of the mapped floodplain of the river. Nevertheless, his home was flooded five times between July of 2017 and July of 2019. In 2018, the floodwaters were seven-and-one-half feet high in his home.
"I can't say enough how important it was for me to be able to rely on flood insurance even with my house not being in the floodplain," Severson said. "The flood of 2018 wiped me out, and I tried to go back and live in my house, while waiting for a possible FEMA buyout, but in the end, it was the mold that drove me out."
Severson said that fortunately he has purchased a flood insurance policy for his home before he experienced flooding.
"If you live by water, you have to have flood insurance," Severson emphasized. "It's cheap – it only costs me a few hundred bucks per year, but if I hadn't had it, then I would have nothing."
Severson described the experience of entering his home during the flood, and seeing the water level outside the house above the level of the first floor windows. He described feeling his way forward with his feet, always wondering what would be underfoot. He entered his kitchen, and saw all his new appliances that had been replaced after the last flood floating around, with the refrigerator having gone through the kitchen ceiling. 
Severson estimated that the water had come up about one-to-two feet per minute at the height of the flooding event. He said that everyone loves to live by the water, as he did himself, but emphasizes that with the increasingly large rain events that have happened in recent years, no one who lives near the water can afford not to have flood insurance.
"Insurance is an important financial security tool," said DFI Secretary-designee Olson-Collins. "Marty's story proved that. His choice to enroll in flood insurance coverage saved him and his family from the potentially devastating costs of flood damage recovery. I encourage everyone to flood-proof their finances with flood insurance coverage."
Pursuing resilience
Fortunately, for Marty Severson, the federal disaster declaration following the 2018 flood allowed him to become eligible for a buyout through FEMA. Severson was assisted in the process by Monroe County Zoning Department, and funding was made available through FEMA, Couleecap, a Community Development Block Grant, and a DNR Municipal Flood Control Grant.
But benefiting from a disaster declaration is certainly an approach of last resort, given that it means a disaster would have had to have occurred. Instead, state and federal agencies are encouraging communities to pursue resilience, before a disaster happens.
Robyn Fennig, State Hazard Mitigation Officer with Wisconsin Emergency Management, was one of the state officials who attended the event in Sparta.
"Through our Wisconsin Disaster Fund, we were able to assist communities throughout the state in increasing their resilience in the face of flooding and other natural disasters," Fennig said. "Unfortunately, that fund was eliminated from the state budget last year."
Fennig said that their agency recognizes that with the increasingly large rain events that state residents have experienced in recent years, repairing infrastructure to its pre-disaster condition is not enough. She said that the agency is working to upgrade standards for funding of disaster recovery to help communities pursue resilience.
There was discussion of the new Building Resilient Infrastructure and Communities (BRIC) grant program through FEMA, and some of the barriers to qualifying for those grants.
"Wisconsin's building codes aren't compliant with federal standards, so municipalities in our state have been getting turned down for these grants," Fennig explained. "Compliance with federal building codes constitutes half of the technical points on a grant application."
Fennig said that another FEMA program that can help communities pursue resilience is the Flood Mitigation Assistance Program. This funding, though, is tied to the number of structures in a municipality that are insured through the NFIP. Communities with a higher proportion of participating homeowners will score higher on their application for this source of funding.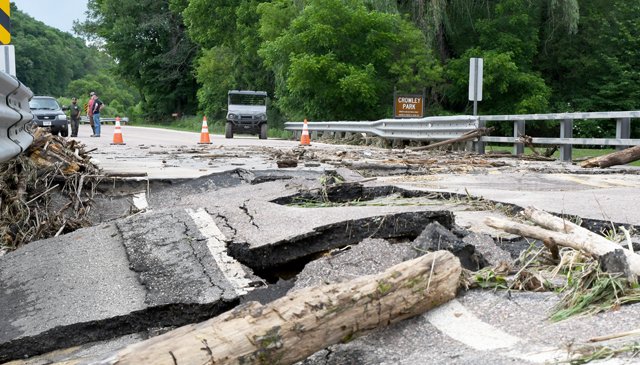 Even in a drought
As Crawford County saw last June, flooding can happen even when an area has been experiencing drought conditions. This was evidenced by the June 25, 2021 rainstorm that set up over areas of Seneca, Haney, and Eastman townships. That rainstorm is estimated to have dumped 10-12 inches of rain in less than six hours overnight. 
The area had previously been suffering drought conditions, after a relatively dry winter and a hot, dry spring. Residents in the affected areas living halfway up the ridge reported groundwater flooding of basements, where flooding doesn't usually affect them. The ground had become saturated.
The National Weather Service LaCrosse released their first of three planned spring snowmelt and flood forecasts on February 10. Currently, large areas of Southwest Wisconsin are considered to be 'abnormally dry,' as was the case in June of 2021.
"The overall flood risk for the Upper Mississippi River Basin is near to slightly below normal due to drier conditions and below normal liquid water equivalent in the current snowpack," according to the forecast. "The first significant winter event in early December brought several inches of snow across the region from just under one inch for locations in the far southern portions of the forecast area, to nearly one foot into the northern portions of the forecast area.
"The next event in mid December, the first ever 'December Derecho,' was historic, bringing severe storms, strong to damaging winds, and well above seasonable temperatures. This resulted in the snowpack being depleted with surface temperatures being well above freezing and widespread rainfall from a couple tenths to half an inch. 
"The current snowpack is around four-to-six inches across much of the area, but there are some with locally higher amounts up to 10 inches in northeast Iowa," according to the forecast. "Current snow water equivalent values across the region are around one half to one inch. These values are around normal to below normal compared to climatology for this time of year.
"The latest observed soil moisture by mass has decreased since the historic December event to now being near 10 percent and less across the region. Frost depth from one-to-two-feet is around normal for this time of year."