Only a handful of seats could be found Tuesday afternoon in the Youth and Ag Building as the Public Service Commission held the first two, of the final series of public hearings to get input into the proposed Cardinal-Hickory Creek 345kV transmission line that would run from Madison to Dubuque County.
    The hearings - there was an afternoon and evening session - are part of a series of hearings being held this week to get public input on the project. In addition to the hearings, the PSC is still accepting input via the web until midnight Friday.
    With around 200 people in attendance during the two sessions in Lancaster, all-but-one who entered testimony into the record spoke against the project, citing either its impact on the landscape, its impact on their property, on potential health effects, on whether the idea was fiscally responsible, or if the area receives a benefit.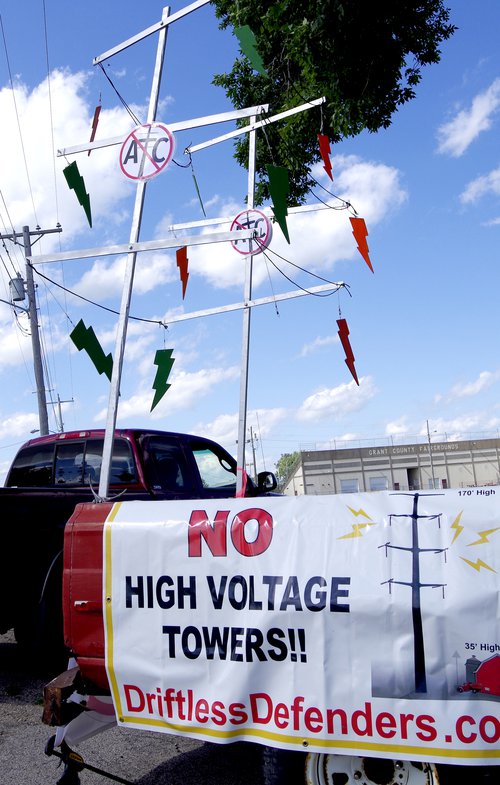 One of the first people to talk was Lisa Schlimgen who talked about the impact of the transmission line to her family's farm in rural Dane County. Schlimgen said that with a farm store at the site, customers would drive right underneath the transmission line, which would greatly affect their business.
    "Don't let CHC make life any harder on farmers than it already is," Schlimgen stated.
    Susan Hughes Anderson said that she was working with her father on getting more information of this project until he passed last August, and she and her sisters have been working on this since, with the project bisecting the family farm.
    First as a simple NIMBY - Not In My Back Yard - but has come to realize its negative impact on properties like her family's.
    Anderson said that the project would cut through ancient burial grounds, what she called a 'natural cathedral,' as well as destroying a nesting habitat for nesting eagles, which was not known until her family alerted the company.
    She worried that the project is not identifying natural and historical items along the site, and items will be destroyed and lost.
    Things already have been destroyed as helicopter trimming improperly cut oak trees, leaving them susceptible to wilt, as well as destroying a tree stand.
    The lone person who spoke in favor of the line was Boscobel-area farmer Troy Brechler. Brechler's farm is not near the proposed routes for the line, but he pointed to frigid cold temperatures in January, and how, while he hadn't lost power, others did, and that showed a need for the line.
    "I hear people say we have enough, but there were people without at the time," Brechler sated.
 Barbara Brown, Montfort, followed Brechler and said that her 93-year-old father had suffered from such a power outage, but countered that Cardinal-Hickory Creek was not going to reduce that issue.
    "This is not going to solve that problem, in fact its going to divert funds," she stated, adding that as a person who worked in the energy industry, she saw how projects increased in price purposely as it meant a greater return for the company.
    Kicking off things for the evening session was Lancaster resident Ivars Kalnins. Ivars had spoken at an earlier sighting hearing held in Cassville, and had stated the need for increased energy needs as individuals transition to electric vehicles.
    Kalnins did not go against his earlier thoughts, but noted that if the line goes through, it means little compensation for landowners, who will have to comply with with moves by the company, even outside the 150-foot easements.
    "I have asked many questions, and I have not received proper answers," Kalnins noted, stating that without answers he picked up the draft environmental impact study, a three-inch-thick book he had brought with him.
    Kalnins noted that for most landowners, they will receive a modest lump-sum payment, far less than the annual payments other landowners receive that have wind towers on their property.
    "How much will they pay you?…..It probably won't be very much," he noted.
    Kalnins said that because it can cause potential problems, ATC may do things outside the easement because it would be considered a potential problem.
    Kalnins noted that on the electrical fields generated by the transmission lines, he said the report downplays the problem, adding the report says that the cabs of tractors will block the fields, although it recommended that while operating, its best to drag a metal chain behind the tractor.
    "Isn't that great - it doesn't hurt you at all, but drag that chain," Kalnins stated, noting that for those Amish farmers, they do not have the luxury of being protected by a tractor cab while working the fields.
    Kalnins also noted that while the individual landowner will receive little compensation, municipalities and counties will get annual payments for the project.
    One person not looking forward to the electrical fields the transmission lines will generate is David Nodolf, a farmer from the Belmont area. Nodolf said they had rented some land that had a 69kV line running over, and that smaller line blocked the GPS/Autosteer for equipment, and to overcome it he had to spend $8,000 to update the module from John Deere.
    Nodolf said that he asked about dealing with the 345 kV line, and the implement company said they don't know how much it would cost to upgrade to overcome the transmission line, but they would attempt to figure it out.
    How much it would cost? They didn't know.
    "Somebody has to pay for this. I am 76 years old, so its not going to be me, its going to be my boy," noting that if this goes in, their neighboring dairy barn will have to be emptied, as it will adversely affect their cows.
    "My son, all he ever wanted to do was milk cows, and my grandchildren are the same way."
    Veterinarian Dan Buckhaus stated in the hearing that if the line goes in "everything we have worked for in the past 20 years will go down in value," noting his office, his home will be nearby the 20 acres ATC is setting aside for a substation.
    "I strongly suspect there will be other plans for that substation down the road," Buckhaus continued, feeling that the future plans are not being shared, but those plans are going to greatly impact the community. "The line will run through the heart of our dairy territory."
    A few people, like Pastor David Froemming, spoke about how there needs to be different projects that counter climate change.
    "I think its time that we go to a decentralized model," where individuals become producers with renewable. "I think this model represents the past not the future.
    Public Service Commission administrative law judge Michael Newmark, who oversaw the hearings, noted how important, and how informed those participating were. "We had a pretty good crowd," Newmark stated.
    "The passion people had, the commitment to their position," Newmark said really stuck out, as well as their knowledge. "What really stood out to me was how people were seriously informed on the project…. they stated a number of issues, and they covered the gamut of issues we are reviewing."
    PSC will review the project and make a decision at the end of September whether or not they will approve.