DRIFTLESS - It was a very long wait this year to learn what awards the Independent-Scout had won in the annual Wisconsin Newspaper Association Better Newspaper Contest.
The entries were made last fall. They were judged later by members of the West Virginia Newspaper Association. 
Around Christmas, the WNA notified Morris Newspapers Wisconsin Publisher John Ingebritsen that the Independent-Scout had won 17 awards. They also indicated four were first place awards; five were second place awards; and six were third place awards. There were also two honorable mentions.
So, the Independent-Scout staff knew there were 17 awards, but did not know what categories they represented. The WNA said they would announce the categories and present the awards at a banquet to be held at the annual convention on Friday, March  25, 2022. Unfortunately, that convention and the related awards banquet was cancelled  due to COVID concerns.
Eventually, the WNA Awards Banquet was rescheduled for Friday, June 23 at the Concourse Hotel in Madison.
So, last Saturday, Independent-Scout editor Charley Preusser in the company of some close friends from Madison, joined publisher John Ingebritsen, Grant County Herald Independent sports editor AJ, Herald Independent graphic designer Jessica Brownell; and Monroe Times editor Adam Krebs at the banquet.
The Independent-Scout entries did well in Division E, the small circulation, non-daily category. Local columnist Jane Schmidt took first place for her column 'Jane's World.' The three columns submitted for her entry were 'Today is the day to be thankful for,' 'Finding God means never being alone again,' and 'Maybe love is enough after all.'
'Jane's World' has previously won an award in Local Column category five times. However, it is the first time since 2013 that column was awarded first place. 'Jane's World' has won second place twice, third place once and received an honorable mention. The column has won six awards in the nine years that Jane has been writing it.
"It's exciting," the columnist said of her latest achievement. "It's fun. You work hard and get first place." 
"Well, Jane is competitive and that's just fine," Preusser said of Independent-Scout's award-winning columnist. "Every entry we make, we make with the intention of winning. And, that's definitely true of our columnists."
A couple of years ago, Emily Shendel's 'From the Valley' column took first place for local columns and 'Jane's World' took second. John Gibbs' column, 'Drift from a Driftless Place,' has also been recognized in the WNA Better Newspaper Contest in the past.
Despite her success, Jane Schmidt realizes the difficulty of writing a weekly column and placing well in the contest
"You can't hit a homerun every week," Schmidt added with a chuckle.
The Independent-Scout's Gillian Pomplun had another good year in the WNA Better Newspaper Contest.  The hard-working reporter took first place in two categories–Ongoing Extended Coverage for her stories documenting the increasing incidence of severe rainfall events in the Driftless Region and a Feature Story Profile that dealt with the struggles of Lynxville resident Margo Van Galder.
In the Extended Coverage category, the judge noted, "Breached dams, heavy rainfall and climate change present challenges."
Pomplun's stories dealt with the severe rainstorms and ensuing flooding that wreaked havoc on lives, livelihoods and public infrastructure including the failures of flood control dams.
In the Feature Story Profile category, the judge was clearly impressed with Pomplun's entry.
Pomplun's story was focused on Margo Van Galder and other seniors dealing with the aftermath of the historic 2021 flood – Citron Creek, but also coulees above Mississippi. The story also wove in Wisconsin Wetlands Association activities in the area.
"This story was a blend of human interest and environmental reporting, with a relevant undercurrent of the challenges faced by real people," the judge wrote.
"I'm really glad to see this story take a first," Pomplun said. "Margo is a very special person, and I put my heart and soul into this story."
Independent-Scout editor Charley Preusser won first place for business coverage in this year's WNA Better Newspaper Contest. The three stories Preusser selected for the entry were about the new chef hired by J&Js in Gays Mills; the Gays Mills apple orchards and the creation of the Ocooch Mountain General Store.
"I enjoyed reading your articles," the judge wrote of the editor's business coverage entry. "Their subjects were interesting and well reported on. I appreciated the context you gave for each of them, detailing the stories simply and with clear direction. Well done."
"It's always great to get positive feedback from your peers," Preusser said later. "And, it's important to keep the readers up to date on businesses in our area."
However, it wasn't just the first place awards that impressed the Independent-Scout staff.
"Look, having your work recognized at this level deserves to get your attention, whether it's for first place or second place or third place," Preusser said. "It's an affirmation from your peers of the quality of the work."
Gillian Pomplun was awarded second place for Environmental Reporting. It is not the first time Pomplun or the newspaper has won an award for environmental reporting. 
Pomplun's entry  relied on a series of stories about the impacts of heavy rainfall, changing rainfall definitions, dam failures, streambank restoration efforts and National Weather Service documentation of increasing rainfall trends.
"Good in-depth reporting on the multiple layers of this issue," the judge wrote in his comments.
"The environment is definitely front and center for our reporting and has been for more than a decade," Preusser explained. "And, Gillian Pomplun is sharply focused on environmental issues."
Pomplun also placed second in the Coronavirus Coverage category. Her story focused on a large  outbreak of COVID at the Prairie du Chien Correctional Facility.
 "Very thorough account on this subject," the judge noted. "I think it's important that people think about this underreported group. Well done."
Charley Preusser took second place for a  General News Photo with a picture of Anthony Horner, the chef at J&J on Main.
"Great action for the story," the judge wrote.
Preusser also placed second in the Artistic Photo Category with a photo of an apple blossom.
Preusser and Pomplun combined to win second place for their photo essay of the  2021 Gays Mills Spring Festival.
"LOVE the little boy on the steer! Amazing photo," the judge wrote of the lead image in the photo essay.
Charley Preusser and Gillian Pomplun, took third place in the Community Engagement Category for a prolonged effort to secure fiber-optic-to-the-premises broadband internet in Crawford County. The community engagement competition is an 'overall newspaper award,' competing amongst all the weekly newspapers in the state regardless of circulation.
Preusser won third place for Localized National Story, with a story about how the Seneca School District reached the decision to abandon the 'Indians' logo.
"A good localized version of the controversy facing many school districts today," the judge wrote.
Charley Preusser won third place in the Enterprise/Interpretive Reporting category for a series of stories about the pursuit of broadband internet for Crawford County.
 "This series of stories on looking at broadband clearly centers on an issue or trend, and it contains research and analysis. The writer talked to many people and attended a number of commission meetings to keep the issue alive. No doubt there is coverage and thoroughness. Facts and figures, money and material needs are presented. The coverage was, perhaps, a cause of the stories becoming so detailed, and perhaps caused a company officer to criticize his coverage in the paper – no one can say the issue was not covered."
Editor Charley Preusser also won third place for Reporting on Local Government with three stories 'Choices,' 'Swing Voting' and 'Write-Ins.'
"Excellent reporting on candidates many other reporters would ignore, ensuring that voters have information on all candidates," the judge wrote.
Preusser also received a third place for a photo essay titled 'Seneca Ridge & Valley Rally 2021.'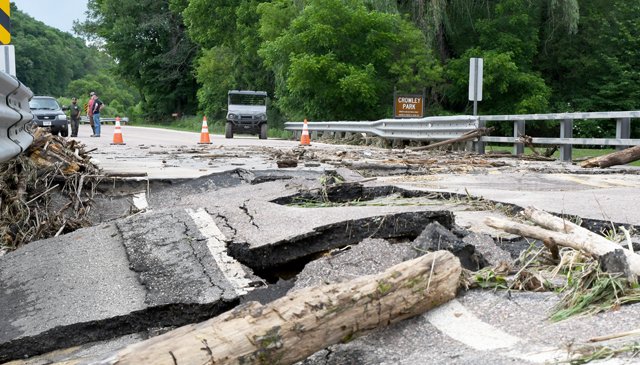 Reporter Gillian Pomplun won third place for a Spot News Photo, 'Damage to bridge from Citron Creek flash flood.'
 "Impressive photo – but seems like its cropped, too bad considering the front page coverage," the judge wrote.
"Even though it's only a third, I'm super happy because this is my first award for photography," Pomplun said.
Rounding things out, the Independent-Scout also received two honorable mentions for entries in the contest. 
Pomplun received an honorable mention for Business Coverage. 
"….I especially enjoyed the creativity of your topics," the judge wrote "I also liked that your submissions were about people in  the context of their businesses. Well done with style and subject matter."
And finally, the Independent-Scout was recognized with an honorable mention for its use of headlines.
"What a year for awards," editor Charley Preusser said. "We need to thank some people whose names did not appear on the awards, but without whose help most of this would not have been possible.
"At the top of our list of thankyous is the work done by Shary Sanders, the Independent-Scout  office manager, ad rep and irreplaceable proofreader. Another thank you goes to the Boscobel Dial and particularly to production manager Barb Puckett, who gets us going with pages and more every week. 
"Then, there's the crew in Lancaster where help comes at us from every direction. So thanks to the printers, led by Earl McClean; and thanks to graphic designers Jessica Brownell and Emily Koch; and thanks to the women at the front desk Gloria Landon and Sandy Taylor; and thanks to Herald Independent editor David Timmerman and sports editor AJ Gates.
"And, thanks to all the help and support we receive throughout the course of the year from Morris Newspapers Wisconsin publisher John Ingebritsen. 
"Thanks also to all the help we get from others in the newspaper group particularly the Plattevillle  Journal, the Courier Press in Prairie du Chien  and the Richland Observer. 
"Of course, we need to thank the owners of Morris Multimedia in Savannah, Georgia for their unwavering support. In particular, we'd like to thank Morris Multimedia President and CEO Charles Morris and CFO Jeff Samuels. 
"Finally, I want to thank our loyal readers for subscribing to the newspaper and for the constant encouragement they direct at us," Preusser said. "We may like winning awards in the Wisconsin Newspaper Association Better Newspaper Contest, but the real reward is what we're getting from our readers every week."